Essência do Vale is located in Cruzeiro, in the state of São Paulo, Brazil, near the Mantiqueira Hills.
Cruzeiro is a town with 80 thousand inhabitants, located in a region known for its natural beauty, climate and tourism potential.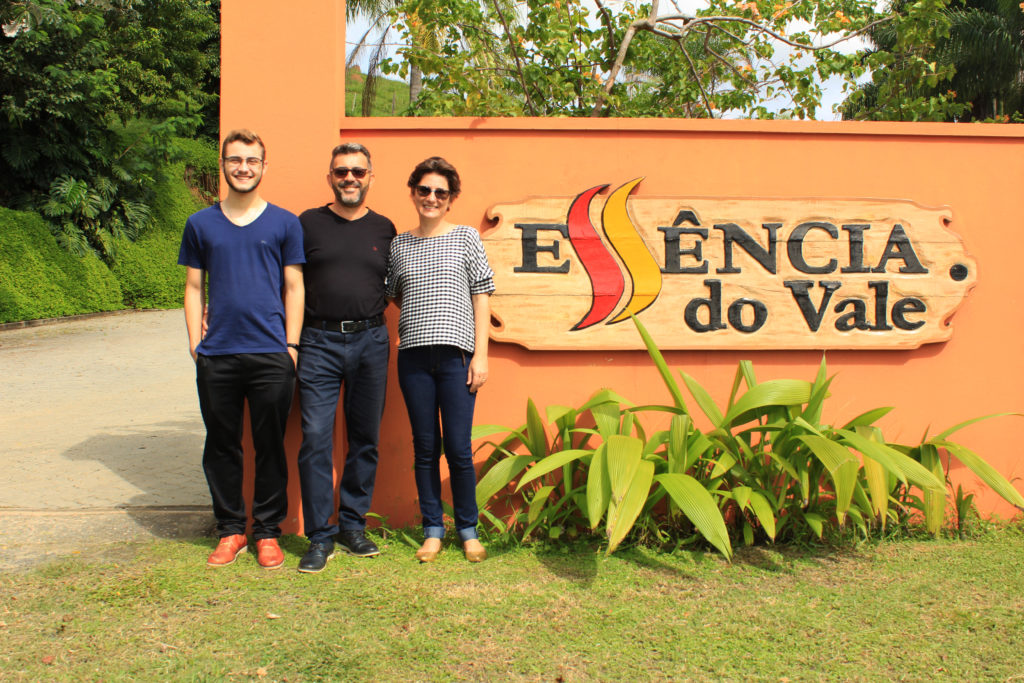 The company is located on the farm Bela Vista, on the banks of Highway SP-52, which connects the Via Dutra to the cities of South Minas.
Essência do Vale was mirrored in European countries, where there are crafts and family industries, which use the simple and homemade processes, enabling the development of healthy and tasty products. The Essência do Vale products are consumed by customers of refined taste and who value natural, pure-tasting products.
OUR STORY
The owners, Helena and Augusto, used to live in the capital of São Paulo. Seeking for a healthier lifestyle, they moved to a town out of the state to live on the family's farm. As they didn't know anything about agriculture, they decided to produce jams, jellies and homemade preserves, thinking about touristic potential of the town. They've always had the idea of ​​making different and healthy products. Gradually, Essência do Vale was born, as the name says, it means the pure taste, which in evident in all the products.
Helena, is a Food Engineer. She started the preparation of the first recipes in the kitchen of her home, with the help of Augusto. At the time, they tried to use ingredients that the farm offered itself, such as bananas, pumpkins, peppers and herbs.
The produces were sold by Augusto in touristic towns of the region. When he returned from sales, new ideas and customer needs were discussed with Helena, who, back then, quickly developed and responded to customers' requests, maintaining a close and evolving relationship with them.
Currently, Essência do Vale has a product line of more than 100 items, all with records and sanitary permits. The production was structured to combine the variety of products withthe customers' requests quickly and guaranteed.
MORE ABOUT THE ESSÊNCIA DO VALE
Essência do Vale produces healthy, gluten-free, lactose-free, non-chemical additives and handmade food.
The differential of its products is that they are unique, healthy and tasty.
Our customers look for a healthy diet, some of them have food restrictions, that's why they want products that taste as if they were made at home.
The Brazilian market for healthy foods earned US$ 35 billion in 2015 and is the 4th worldwide. Between 2009 and 2014 this market grew 98%, source Euromonitor. Only in the state of São Paulo, there are more than 1700 points of sales of healthy products and by 2020 this market will grow on average 30% per year.
The market for restrictive diets is very important, because currently 52% of the population has some type of food restriction. Included in this statistic is the faithful Kosher market, as the Essência do Vale products are conform to this philosophy.
Currently, we have a product mix of more than 100 items, divided into 8 product lines. The most expressive sales lines are functional products based on green banana biomass and sugar, and diet jams/jellies which are enriched with green banana biomass.
Our products can be found in 300 different places in Brazil, and we have already sent products to the USA, Dubai, France and Germany to private labels of partner companies.
We greatly value the preservation and recovery of the environment. Since 2003 we have reforested our property where the plant is installed and we invest in sustainable processes.
OUR MISSION
To offer healthy, great quality, handmade and sustainable food, pleasing the taste of those who seek for a healthy lifestyle.
OUR VISION
To consolidate in the internal and external market as a reference of quality in the handmade production of healthy foods, with excellence and respect to customers and the environment in a lasting and profitable way.
OUR VALUES
Our practice is based on the following values:
Healthy food;
Continuous improvement;
Professionalism;
Innovation;
Profitability;
Slow-food movement – cultivation of the taste for pleasure, for the quality of life in the day-to-day and environmental harmony;
Integrity;
Customer enchantment;
Service excellence.